Status of hardware at each VMS location:
Location
Hardware
Status
Date
Login Credentials
Long Beach
– Desktop with LAN
– iPad
Live
08/29/2022
Windows – Unique log-in for each user. Connect with Alex for your Windows user log-in.
LAN – No Password
iPad – 5555
WiFi – Network: Long Beach PD Guest; Password: Deep0ceans-333
Pasadena
Desktop with WiFi
Live
04/28/2022
WiFi – Network: City Public Wifi, NO PASSWORD
Beverly Hills
Desktop with LAN
Live
05/02/2022
Windows
Username:VMS
Password: Vms#90210
Glendale
Laptop with WiFi
Live
05/11/2022
There is no laptop password and the laptop will automatically open the Edge browser with the DrChrono website as the main page. You may need to give the laptop a minute to auto-connect to WiFi if the system reboots.
Inglewood
Desktop with LAN
Live
05/03/2022
Windows
Username: Med Services
Password: Inglewood3!
Culver City
– Laptop with WiFi
– iPad
Live
08/03/2022
Windows – None
iPad – 5555
WiFI – Network: PDG, Password: CCPDGuests1918
Hawthorne
Laptop with WiFi
Live
05/05/2022
Windows – Username: VMS Nurse, Pin/Password: 5555
WiFi – Network: COH_Guest; Password: None; **You may need to enter an (any) email address if the WiFi connection resets. See below for more information
Manhattan Beach
iPad
Live
08/29/2022
WiFi
Network: Vital
Password: MBPDV1ta!
Santa Monica
Desktop with LAN
Temporary
10/18/2022
Use the jailer's computer for access
Please connect with the Jail lead if you have any Internet (WiFi or Local Area Network) questions and they will reach out to their IT department.
Hawthorne
If not connected to WiFi, click on WiFi icon in bottom left-hand corner of desktop screen and select COH_Guest:
2. Enter any e-mail address into the Guest User log-in screen: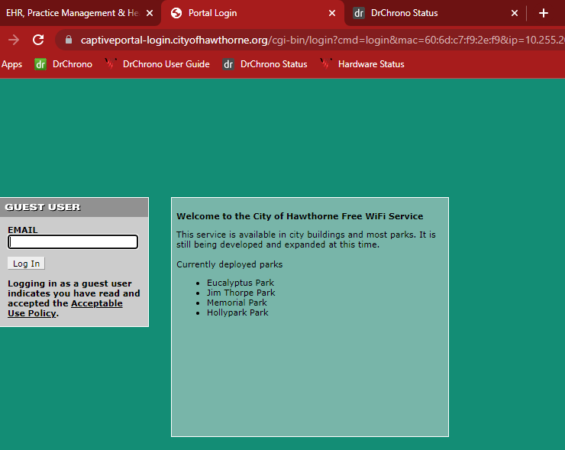 3. Once connected City of Hawthorne.org website will appear. You can close out this Chrome tab and continue.